Kennesaw State University CCPE
KSU Center – 3333 Busbee Drive, #330. Kennesaw, Georgia 30144
470-578-6765 | 1-800-869-1151 (US toll-free)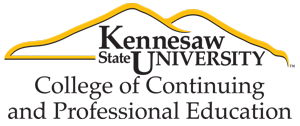 Staging Your Home for Resale
Come learn staging techniques that can improve your selling experience and return on investment. Staging your home is possible on a budget and instructor Jan Britt, has developed quality, yet inexpensive ideas that will provide you with a high-end look. Learn how to make your home appear larger, use current furnishings and décor to your advantage, and reduce clutter.Class Details to sign up call main office 470-578-6765.
Decorating and Design for the Home: The Basics
Students will learn step by step how to start decorating their home and will learn how to identify their decorating style and color palette. Learn how to choose colors, fabrics and paint that will help provide a positive atmosphere in your home. Through creating a story board, you will learn how to develop a focal point, arrange furniture and wall hangings, and design window treatments. The class will visit the Decorating Mart fabric store in Marietta, GA to see the characteristics of quality furniture, pictures and fabrics. A wood floor expert will come to class and teach us about the differences in flooring. Bring pictures of one room in your home and the instructor will provide a free mini consultation before or after the class. For the last class, we will go to one lucky student's home to give decorating ideas. Instructor Jan Britt our 2016 Award Winning teacher will show examples of what you have learned in the previous four weeks during the home tour. This class will touch on:
Color, paint, lighting, furniture, pictures, area rugs/flooring, accessories and much more.
How to save money when you are selecting fabric
How to determine furniture quality
Inexpensive decorating tips to decorate your home
Color coordination and combinations
Bedding, fabrics, lining
When and where to use Window Treatments
Wall paper trends
Wood flooring facts
Come and have some fun and learn how to get started in decorating your own home! Class Details to sign up call main office 470-578-6765.
For more information about this course

contact Jan (404) 510-3636