No-Sewing Window Treatments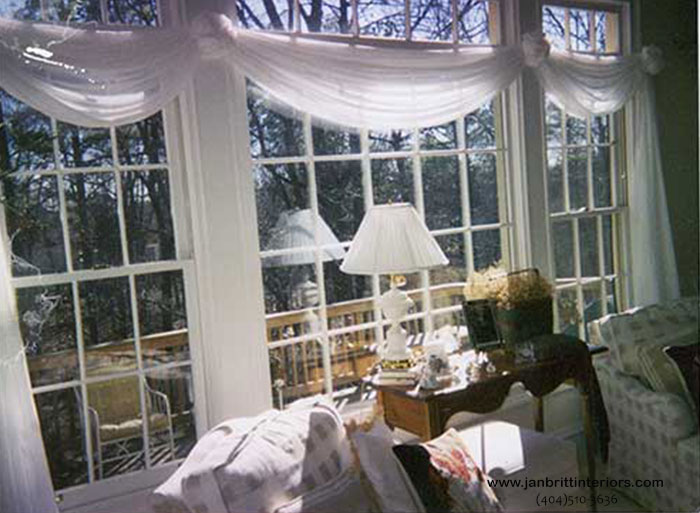 Creative and Inexpensive!
No- sewing window treatments are an inexpensive way to help you decorate or help stage your home. Unlike custom made window treatments, there is no sewing. The fabric is manipulated to create a professional "look" of custom made window treatments. Jan has been teaching No-Sewing window treatments for many years. She has taught these classes at Kennesaw State University Adult Education Department, and a large variety of other schools and locations. Jan demonstrated a few of her techniques on the Home and Garden channel.
You can click on the HGTV link below to see the window treatment styles Jan demonstrated. She has created and sells two step by step instructional No-Sewing window treatment DVD'S. Jan was asked to be a special seminar speaker for Stagedhomes.com demonstrating her No-Sewing window treatment techniques. No-Sewing window treatments are perfect for staging a house because they add color to a room at a very inexpensive price. Jan also demonstrated her No-sewing window treatment technique as a speaker at the Window Covering Association of America Expo at the Georgia World Conference Center in 2008.
Jan has two separate instructional No-Sewing window treatment DVD's that show a variety of styles of window treatments. The price is $19.95 each plus shipping and handling. Please contact Jan to order the DVD's.