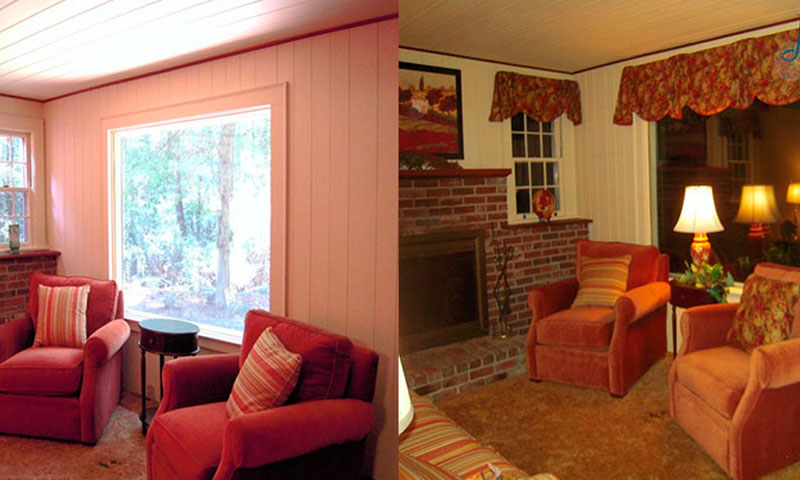 Redesign on a Dime
June 12, 2023
Do You Have Too Much ECHO in Your Room?
June 13, 2023
If you are going to redesign the whole house then start with the "common rooms". The common rooms are the living room, dining room, kitchen, family room and keeping room. You will want those rooms to look the best. The common rooms are what you, your family and friends see every day.Try to determine what look you want to have in your common areas. I had a client who wanted a unified look for her kitchen and family room. She also wanted her family room and kitchen to look larger. When we started the redesign process the kitchen was painted red.
At that time she loved the bold color. The red paint in the kitchen gave a visual illusion of a beautiful boldness and created a visual separation from the kitchen and the family room. Now, my client would like a quieter, unified and more toned down atmosphere. I told her to paint the kitchen yellow. The family room and hallway were already yellow. Painting the entire area yellow created the look I was looking for to start our redesign. The yellow paint throughout the kitchen and family room unified and toned down the atmosphere of the two rooms. It also gave the illusion of more square footage. Now, I needed a dramatic splash of color to add to our décor style. I used her existing pictures, window treatments and area rug in the eating area. I added a lemon and cherry centerpiece to the table. The lemon and cherry colors helped me accentuate my color palette. I added greenery, plates, empty wine bottles and grapes in an arrangement to add a dramatic but non intrusive touch of color to the top of the cupboards. This technique helped me add color, dimension, texture and personality to the kitchen.
You might want to use a different color to help you unify your rooms and make your rooms look larger. Check your color palate to determine what color works best for your home. You can take redesign a step further. If you like to change your décor frequently, I suggest that you buy a couch and family room furniture that will go nicely in many types of home décor so you can change your decorating style often. This eclectic styling of couch or furniture will enable you to introduce a whole new style of décor into your room whenever you want to without costing you a lot of money.
As an example: You can take that "Tuscan" or "old world Italian" style of decorating that you might have in the master bedroom and introduce it to the walls of your family room.
Don't forget to introduce this new decorating style to the other "common rooms" within your home. You might have to buy additional pictures and accessories to compliment the pictures you already had for the bedroom. Pillows and floral arrangements are wonderful in aiding you to pull the color palate out that is within your décor. You may also need to change the paint color of the room(s) to help you have a greater impact to show off your new decorating style. You can create a whole new look by changing the pictures, area rugs, window treatments, accessories floral arrangements, paint and lighting without changing the furniture.
Another aspect of redesign is lighting. Make sure you have enough lighting to have the function that you need within that particular room. Chandeliers are a wonderful way to show off the décor of a room and illuminate functional lighting at the same time. Sometimes builders do not center chandeliers in the proper location within the room. If your chandelier is not centered in the proper location above your table you can give it a quick and temporary fix.
Attach a plant hook in the ceiling where the chandelier should have been installed in the first place. Take some of the chain and swag it to the secured plant hook. Your chandelier should be centered in the middle of your table. You will now need an electrician to come and relocate the chandelier into its proper hanging position. Moving the chandelier will leave a hole in the ceiling.
Install a circle medallion around the newly placed chandelier. If the original hole in the ceiling is not too far away from the chandeliers new location the medallion will cover up the hole. The medallion will enable you to hide the hole and you should not have to repaint the ceiling. You may or may not choose to use a medallion. You may choose to fix the hole and paint the ceiling. Do whatever works out better for you. If you have invested a lot of money into your chandelier and it matches your décor then make it your focal point. Do not let your table centerpiece overwhelm your chandelier.
Redesign can be a lot of fun and very economical. You can be creative and give your house a whole new look and sometimes you do not have to spend any money!