It's Time to Move – Staging Tips
Many people are thinking about putting their house on the market to sell, and moving can be a very difficult thing to do. I want you to consider staging your home before you put it on the market. According to research and statistics, staging has been proven to help you sell your house much faster and for more money. Because the staging process has proven to be successful in today's real estate market, HGTV, DIY, and many other TV shows have become more popular and have great ratings.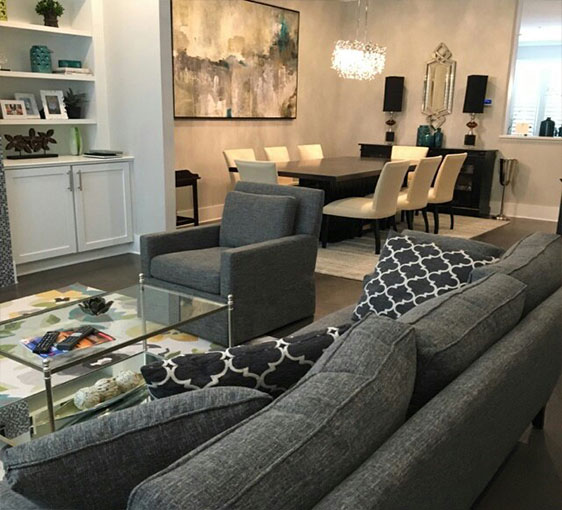 I do want you to know that most of the time when you stage your home you do not have to create a huge mess by ripping out cupboards, countertops, or light fixtures, and buy all new furniture for multiple rooms of your home. That is mostly done on TV because the show's sponsor has a budget to spend to make the show have more of a dramatic effect for the before and after photos. Yes, there are times that I have to take some drastic measures when I stage a home, such as sometimes having to update items like the counter tops and light fixtures. However, I always talk to the home owner and discuss all the options that are available to them before we do anything. Sticking to a budget is a top priority when you are staging a house to sell. Sometimes when you stage a house all you have to do is "redesign" the house because you already have everything necessary to make it look great and spacious. I want to give you some staging guidelines to help you evaluate your home and make this moving transition easier.
As you drive up to your house, look at it as if you were shopping to find a house to buy. Would you be impressed with what you see? If the potential buyers are not impressed with the outside of the home, do not expect them to have the time or energy to stop the car and get out to see the inside of your home.
Once you have the potential homebuyer inside your home, make sure the first impression is really impressive. Stand at the front door and look in every direction to see what others would see. Does your house look dated? As the people walk into your house do they say, "WOW, this is nice"? The "WOW" factor for the potential homebuyer when they enter the room usually comes from pictures properly placed above furniture and proper window treatments that add color to the neutral colored walls.
Does the wall color of the room impact your first impression more than the room itself does? If that is the case, your wall color is too strong and needs to be repainted. If you are not sure how a potential homebuyer would react to your home, then ask a friend to walk through the front door and tell you what they think. You could also hire a stager to help you create that "WOW" appeal.
Pictures are a wonderful touch to complete the decorating style and color palette in a home. Pictures or artwork will help you receive the WOW factor for each room. The pictures should be hung properly over the furniture to make the furniture look good as well. Hang pictures 10 to 15 inches above the couch or bed. This helps to complete the look of the furniture and pulls out the color palette and decorating style. Do not hang a picture above the couch if it is smaller than half of the width of the couch. The best visual appeal is to hang the pictures and/or accessories for the wall the width of the couch.
Staging is all about making your house look like it has a fantastic color flow and decorating style that is socially acceptable in your area to reach the largest number of people. If you have any staging questions I will be happy to answer them.