Get the look for less when it comes to window treatments.
Do you have expensive taste in window treatments or curtains? There is nothing wrong with that! An interior decorator can help you choose your dream window treatments. It is so much fun to enjoy professionally-made window treatments that reflect your personal taste. Sometimes your budget does not allow you to be able to purchase your first choice in window treatments. Do not get discouraged or give up; there is always a way to make you happy. Many times the hardware or the brackets that accentuate the window treatment are the reason for the expensive price. If your "dream" window treatment is not in your budget, I can usually find a way to modify the plan for creating your window treatments to make them affordable for you.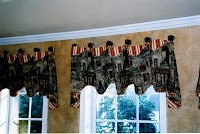 There is a very popular Tuscan style of valance called the "Cuff Top." A great example of this valance is shown in this photo.
In this photo you will see a variation of hardware used, or lack of it, to change the pricing of the valance without compromising the style. You can see that this Tuscan style of window treatment as it was originally intended to be fabricated and installed. The pricing for the finial or hardware starts at $10 to $75 dollars per finial. This window treatment has a dual focal point of the finials and the window treatment itself.
In this second photo, the Cuff Top valance is shown with much smaller finial hardware. The finial hardware you see is actually a drawer pull. That can be purchased at any hardware store. The window treatment appears to be more dominant and the hardware is only an accent to the window treatment, but it's also functional.
The last two photos show the Cuff Top valance without any finial hardware.
This window treatment is attached and mounted on a 1' x 4' board. The Cuff Top has not been visually modified, yet, without the finials, it gives this window treatment a different look. This particular installation technique is the perfect solution for tight, dry wall areas above the window to the ceiling. Installing a window treatment on a board instead of installing individual finials substantially reduces the total price of the window treatment. (An installer will charge you a fee to install each finial.) No matter what your walls or windows look like, you can make this window treatment look great for you!